Share your thoughts on 'taboo' topics in women's health!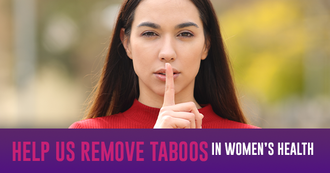 There are many subjects in women's health that are considered taboo that shouldn't be—like pelvic floor issues, menopause, and painful periods.
In a new effort from the AWHF, we are asking everyone in our community—people of all ages and stages of life across the entire gender spectrum—to assist us. Our goal is to better understand these topics as well as the perspectives surrounding them so that we can help make meaningful change.
The survey should take just 5 to 10 minutes of your time. Your answers could mean a breakthrough for women's health in Alberta.
Please feel free to share this link with your friends and family, and thank you in advance for your assistance!
The survey will close on August 2nd.
We are also hoping to gather stories of personal experiences regarding these topics. If you feel comfortable sharing, please submit your story below. Please note we will not release your information and will not publish your story without permission.
Participation is anonymous and all responses will be kept confidential. Survey data will be collected and analyzed by Y Station Communications & Research.
On behalf of the Alberta Women's Health Foundation, thank you for your support, and thank you to all those who have already shared their thoughts and perspective.