Dr. Colleen Norris named Cavarzan Chair in Mature Women's Health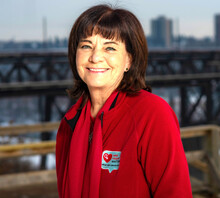 The Alberta Women's Health Foundation is excited to announce the appointment of Dr. Colleen Norris as the Cavarzan Chair in Mature Women's Health Research, for a five-year term effective Aug. 1, 2022. The AWHF is proud to be a long-term partner in the support of this endowed chair, helping fund the advancement of women's health. 
***This article originally published via WCHRI***
Dr. Norris is a registered nurse and professor in the Faculty of Nursing. She also holds adjunct appointments in the Department of Medicine in the Faculty of Medicine & Dentistry and in the School of Public Health. Dr. Norris is internationally recognized for her leadership in developing and disseminating evidence-informed strategies to transform clinical practice and impact policy related to women's health. Her extensive research program focuses on sex and gender factors that impact women's heart health.
Dr. Norris completed bachelor and master's degrees in nursing and a doctorate degree in epidemiology, all at the University of Alberta. Postdoctoral training in health-outcomes research followed, with work on gender differences in health-related quality of life following treatment for coronary artery disease.
She was appointed interim Associate Dean of Research for the Faculty of Nursing in 2022, and has served for 10 years as the scientific director of the Cardiovascular Health and Stroke Strategic Clinical Network for Alberta Health Services. She is also a Fellow of both the Canadian Academy of Health Sciences and the American Heart Association. Dr. Norris is the past Chair of the Canadian Women's Heart Health Alliance Health Policy and Services working group, whose mandate is to implement policies that advance our understanding of the unique sex and gender factors affecting the outcomes of women's heart health. Dr. Norris has mentored more than 90 students/trainees and has more than 400 peer-reviewed publications.
In her role as the Cavarzan Chair in Mature Women's Health Research, Dr. Norris will work closely with Alberta Health Services, the Department of Obstetrics & Gynecology and the WCHRI team at the Lois Hole Hospital Women's Research Centre to promote interdisciplinary and collaborative women's health research; provide mentorship that will promote the development of junior faculty in women's research; develop collaborations in mature women's health research locally, nationally and internationally; and act as an ambassador and champion to actively link research with practice for the benefit of women and the communities in which they live.
Congratulations on your well-deserved achievement, Dr. Norris! We look forward to seeing the progress you'll make towards improving the health of mature women.