"Research 101" - Getting to Know the Women and Children's Health Research Institute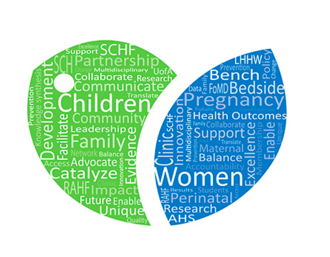 Founded in 2006, the Alberta Women's Health Foundation is thrilled to celebrate the work of researchers at the Women and Children's Health Research Institute (WCHRI)—Canada's only research institute dedicated to women's, children's, and perinatal health.
Over the last decade and a half, WCHRI has supported over 500 University of Alberta researchers, contributing to cutting-edge innovations in women's health through evidence-based inquiry. And since 2006, the AWHF and its supporters have given $27 million in support of women's health research.
WCHRI has created a very helpful "Research 101" document with key stats and info, outlining how the organization functions and the important work it facilitates (with a few summaries below):
What does WCHRI do?
Based primarily out of the University of Alberta and with research arms at the Stollery Children's Hospital and the Lois Hole Hospital for Women, WCHRI partners with students and staff at the U of A who focus on the promotion of women's health, children's health and well-being, as well as pregnancy and developmental trajectories.
How does research get funded through WCHRI?
WCHRI supports researchers in a variety of ways, such as offering research grants for students and staff at the U of A, operational funding, recruitment and start-up awards, matched funding, travel and hosting awards. WCHRI also funds research platforms such as clinical trials, biostatistics, study management, and qualitative research.
What are some of the innovations that have come from WCHRI supported projects?
Thanks to the hard work and dedication of U of A researchers, advances have been made in the field of ovarian cancer treatment, the development of new national guidelines around exercise and pregnancy, the removal of barriers for immigrant women affected by pelvic floor disorders, the development of a mental health app for pregnant and post-partum women, and the growth of a placenta in a lab petri dish to examine potential treatments for pregnancy complications.
Who qualifies as a "researcher?"
Plenty of people quality as a researcher! WCHRI supports students and staff at the University of Alberta at all institutional levels, from undergraduates to esteemed research fellows. Types of researchers include undergraduate, graduate, and PhD students, medical residents, post-doctoral fellows, clinical fellows, researchers chairs and endowed chairs. Many students receive funding through the WCHRI summer student program!
A full listing of WCHRI's endowed chairs is available on WCHRI's recruitment webpage.
Thanks to WCHRI for being such an amazing partner in furthering progressive developments in women's health!