Discussing Women's Healthcare and the WHCC with CTV Calgary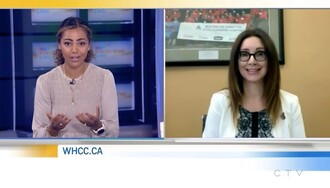 Yesterday morning, Sharlene Rutherford, President and CEO of the Alberta Women's Health Foundation and Royal Alexandra Hospital Foundation, was on CTV News Calgary talking about the Women's Health Collective Canada (WHCC). 
Sharlene discusses the knowledge gap surrounding women's health due to years of exclusion from medical trials, and how we can narrow this gap through accelerating research into women's health through the WHCC, ensuring better representation and more accuracy for women in the medical field.
Take a look at the clip below to learn more about the work underway by the WHCC: 
The WHCC is a partnership between the Alberta Women's Health Foundation, the B.C Women's Health Foundation and the Women's College Hospital Foundation with the goal of making healthcare more equitable for women.