Celebrating our focus, families, and firsts - A Year-End Message From Our CEO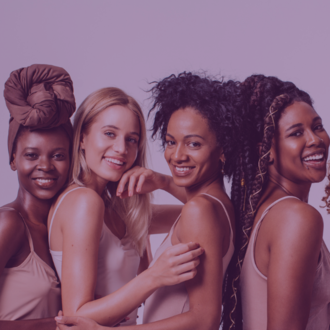 Dear friends,
On behalf of the Alberta Women's Health Foundation, please allow me to extend our well wishes for the holiday season, as well as our deepest gratitude for what you've helped us achieve.
Launched by the Royal Alexandra Hospital Foundation in March, the AWHF is closing the historic knowledge gaps in women's health through a commitment to increased funding for research. We're off to an incredible start, because of you.
This success has come even during the most trying of times. It is no secret that this prolonged global crisis has caused untold harm, and we've come to understand even more clearly that women have been bearing the brunt of the pandemic in disproportionate ways.
We've learned that women have shouldered an enormous burden in the care of immediate and extended families, and many have sacrificed not only their career aspirations, but even their own health needs in order to take care of the ones they love.
As women so often look after the needs of others, the AWHF exists to ensure our health system is better positioned to look after them.
This is why we are filled with gratitude knowing we have people like you standing behind us, celebrating with us, and supporting us through a number of major milestones: our official launch on International Women's Day and the first steps taken to #RefocusTheResearch; an uncharacteristically candid Mother's Day campaign highlighting the health challenges of mothers and would-be mothers across the province; along with our partners at UCalgary Faculty of Nursing, the joint renewal and expansion of Alberta's first pan-provincial perinatal mental health research Chair to cover the full life course; celebrating the research and researchers we've enabled over the years at WCHRI's annual Research Day, the production of our very first PSA, a thought-provoking message around societal focus on women's beauty as opposed to their health; appearances on multiple talk shows and in myriad media outlets; and of course, the creation of our very first thought leadership report, Finding the Fractures. If you have not had a chance to read it yet, I would encourage you to do so (and to share and discuss what you deem the most impactful points with your friends and family).
There's no question that the COVID-19 pandemic has been unrelenting, but through it all, we stayed focused on our goal of advancing women's health and women's health research.  
For that, we have you to thank. So, we hope you rest easy knowing you've helped make a difference for women and families across our province, as well as beyond.
From all of us with the Alberta Women's Health Foundation, thank you for your support.
If you are one of our monthly supporters, have already made a year-end charitable gift or are considering one, thank you. If you are not able to give financially at this time, please know we also appreciate your support in amplifying our important message: when women are healthy, so are our families, our society, and our economy.
An investment in women's health research is an investment in everyone's future.
Stay safe and stay well.
Sincerely,
Sharlene Rutherford, BPA MBA
President & CEO, Royal Alexandra Hospital Foundation