UnBelts Supports the AWHF for Giving Tuesday 2021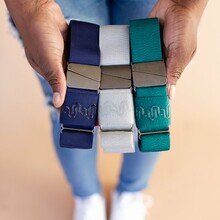 This year for Giving Tuesday, the Alberta Women's Health Foundation teamed up with UnBelts, a local female-owned apparel business and certified B Corporation in Edmonton that manufactures ethically made, sustainable products from recycled materials.
The founder and director of UnBelts, Claire Theaker- Brown, is a passionate advocate for mental health and women's empowerment, making the AWHF an easy fit as a partner for Giving Tuesday 2021. From November 26th – 30th UnBelts donated $5 from every belt to the Lois Hole Hospital Cross-Provincial Chair in Women's Mental Health Research, led by Dr. Dawn Kingston and her team.
Thanks to everyone who participated, UnBelts was able to donate $1410!
AWHF President and CEO, Sharlene Rutherford also sat down with the UnBelts team for a Q&A, where she spoke about the importance of women's health research. You can read the blog post here.
Thank you, UnBelts, for your generous contribution!