"A Grandmother Making It Count" - Marjorie from Camrose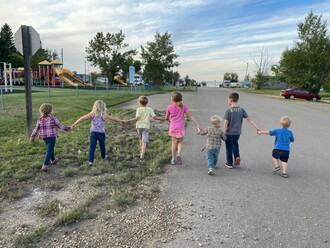 Marjorie Nahirniak, a mother of three (and proud grandmother!) from the County of Camrose, Alberta, realizes that gender inequality exists in our world—some sadly deliberate, and much due to simple ignorance and insensitivity. 
She recently donated to the Alberta Women's Health Foundation as she believes, "It's my responsibility, privilege and legacy to make an effort to eradicate those discrepancies that are based on gender."
Though she was fortunate to not have experienced any specific health crisis, either to herself or a close loved one, she sees objective value in supporting others. 
"When you have the opportunity to do something good, not just because it's affected you personally, that's something you have to act on," she said.
We are thankful for Marjorie and those like Marjorie who—despite not being in a financial position to contribute significant amounts, and "not in any dire need or stress"—still give what they can, understanding and believing in the power of numbers. 
Marjorie's story truly embodies integrity, always focusing on doing what's right, standing up for others who may not be able to stand up for themselves, and working to create a better world for our children. 
When asked about why she donated, Marjorie explained, "Donating to a good cause ranks up there with being a mother. Perhaps you don't get recognized in a worldly way for your day-to-day efforts but when you can be proud of the end product… Wendy's daughters, my boys… that's enough. When your efforts start to make a difference that will be enough."
She also pointed to a philosophy she learned from a pastor, to 'think globally and act locally,' and to the timing of events happening all around us. 
"It's never too late to move forward and refocus," she explained. "This is the ideal time to focus on women, get their concerns and health matters out in the open, and get on an equal footing."
We could not agree more.
Thank you Marjorie for the change you are bringing about in this world, for your inspiring integrity, and for making us all proud—our family, your family, and all your fellow community members. We wish you a very enjoyable and well-deserved retirement with your children and grandchildren.