Researcher Spotlight: Alexa Ferdinands examines the health outcomes of zero-fee education for diverse young women in rural Alberta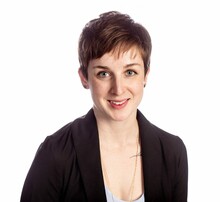 In Canada, June is Pride Month. During this month-long celebration, people all over the world celebrate the history, achievements and contributions of the queer community, while also reflecting on the decades-long fight for equality, and the ongoing battle for inclusion. 
The Alberta Women's Health Foundation is, and will always be an ally to the LGBTQ+ community and is proud to fund work that helps improve the quality of life for queer people and their communities. Through WCHRI, the AWHF is funding the research of Alexa Ferdinands, who is examining the role of zero-fee education for diverse young women in rural Alberta. 
**Originally published via WCHRI**
It is well-established that post-secondary education is linked with increased employment opportunities and income. Alexa Ferdinands is taking advantage of a unique opportunity to study the impact of increased access to education on another important benefit—improving health outcomes for women in rural Alberta.
 "We know that gender inequities in post-secondary education have serious, long-term psychosocial health consequences for girls and women, such as anxiety and heightened stress levels," notes Ferdinands, a WCHRI-funded postdoctoral fellow in the School of Public Health. 
Ferdinands will examine the health outcomes of zero-fee education in Drayton Valley, Alberta. Forty-five percent of women residents complete education beyond high school there, compared to sixty-five percent of women in Alberta overall.
Drayton Valley implemented zero-fee post-secondary education (ZFPE) in 2020—the only initiative of its kind in Canada—to address inequality and increase access to higher learning. ZFPE enables any resident, no matter their financial circumstances, to attain post-secondary education without having to leave their community. 
One of Ferdinands' supervisors, Maria Mayan, has partnered with the town to examine ZFPE implementation and Ferdinands will add to that work with her postdoctoral project. She is particularly interested in how ZFPE is taken up by women who may be marginalized along lines of class, race, ethnicity, sexuality, ability and immigration status.
Ferdinands will interview and survey a diverse group of women pre- and post-ZFPE programming to explore their experiences, including the impacts of ZFPE on their health. She will also co-create a Young Women's Education Committee with research participants to collectively interpret, integrate and present actionable findings to key stakeholders in Drayton Valley including town council.
Ferdinands anticipates that her research will have even more far-reaching impacts, and will draw attention to gender inequality in post-secondary education in rural communities as a critical public health issue.
"I recognize my privilege in attaining post-secondary education, and I want to ensure that other girls and women, regardless of their financial circumstances or geographical location, have similar opportunities."
Ferdinands is supervised by Maria Mayan and Rebecca Gokiert in the School of Public Health. Her fellowship has been funded by the Alberta Women's Health Foundation through the Women and Children's Health Research Institute.