Research Day 2021, WCHRI's 14th Annual Event Sharing and Celebrating Research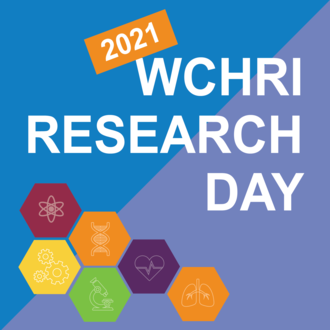 WCHRI Research Day 2021 has come and gone – and what an excellent two days of presentations, connections, and learning!
Every year, Research Day provides a platform for WCHRI research trainees to showcase their accomplishments in the field of women and children's health research. Taking place in an entirely virtual setting, Research Day 2021 was spread out over two days, from the afternoon of November 3rd and the morning of November 4th. We learned about the numerous projects currently underway by trainees, who in turn also had the opportunity to network with stakeholders in sponsorship rooms when not presenting or attending a session.
Research Day attendees were privileged to hear a keynote address from the internationally renowned Indigenous health researcher Dr. Janet Smylie, who delivered a powerful presentation on advancing generative health services for First Nations, Inuit, and Metis peoples.
Guests of WCHRI Research Day were also able to vote on their favourite trainee presentations of the day, with the honours going to:
First place: Alexander Howard – "Accessing gender affirming bottom surgeries in Alberta: a qualitative study."
Second place: Jasmine Nguyen – "The role of atypical protein kinase c in regulation of endocytosis and exocytosis in the placental syncytium."
Third place: Harry Wilton-Clark – "Competition between dystrophin isoforms causes a Duchenne muscular dystrophy-like phenotype."
A round of applause to our friends at WCHRI for producing another stellar Research Day, and to the trainees on their hard work! Women's health research remains a largely understudied and underfunded area of medicine. We celebrate your commitment to advancing research in the field of women and children's health science. 
"Recognizing that improving the health and lives of women is not only good for women, but also for community health, for public health, and significantly improves everyone's capacity to contribute to Canada's GDP." - Sharlene Rutherford, President and CEO, Royal Alexandra Hospital Foundation
The Alberta Women's Health Foundation is a proud partner and sponsor of WCHRI. It is through the continued generosity of our incredible supporters and donors the AWHF is able to help fund research aimed at bridging the gaps in women's health.