Meet Meredith, An AWHF Donor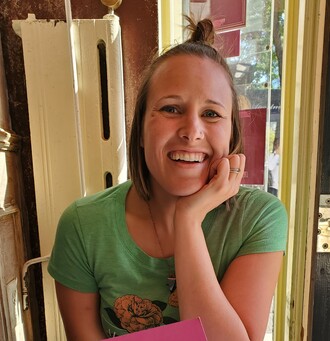 "I've been waiting for an initiative like AWHF to come so I could put my dollars towards women's health research."
In our new supporter spotlight, we'll introduce you to AWHF advocates who are passionate about women's health and dedicated to closing gaps in women's health research. This growing group spans people of all ages and backgrounds, and from communities across Alberta.
Meredith resides in Canmore with her partner, describes herself as creative person, passionate about writing, illustration, and culture, originally from "the friendly village of Lougheed".
How did you hear about AWHF?
Meredith: A fellow colleague of mine shared your new advertising campaign on LinkedIn. I immediately clicked through and thought, "YES!
What makes you so passionate about this cause? Why is this so meaningful to you?
Meredith: In the past, I've been frustrated looking for accurate health information regarding women's health that I trust – for myself, my family, and my friends. Knowledge is power and we need to be able to research our health concerns before meeting with a medical professional (using accurate, scientific sources). I didn't truly grasp what a systemic problem it was until I was introduced to the book, "Invisible Women: Exposing Data Bias in a World Designed for Men" by Caroline Ciado Perez. I've been waiting for an initiative like AWHF to come so I could put my dollars towards women's health research.
Do you have a favourite quote or takeaway from the book?
Meredith: "The evidence that women are being let down by the medical establishment is overwhelming. The bodies, symptoms of diseases that affect half the world's population are being dismissed, disbelieved and ignored. And it's the result of a data gap combined with the still prevalent belief, in the face of all the evidence that we do have, that men are the default humans. They are not. They are, to state the obvious, just men. And data collected on them does not, cannot, and should not, apply to women. We need a revolution in the research and the practice of medicine, and we need it yesterday."
What kinds of women's health topics or issues are you most concerned about?
Meredith: Maternal health, mental health, cardiovascular health, reproductive health, preventative care, menopausal health… I just wish health and wellness for all women. We are all connected, and when the health and wellbeing of a society's population is being neglected, we all feel those effects.
I also hope that researchers are looking at how and what health information is passed between women, usually between friends and family through generations, and exploring the scientific validity of this oral knowledge. I think we've been left to figure it out for a long time, and we've been pretty successful, but we deserve to have the same level of health research that male populations currently enjoy.
What are you hoping the sharing of your story will achieve?
Meredith: I'm hoping that someone else will see that donating doesn't have to be big dollars. $10-$25 a month can go farther than you think.
Thank you so much to Meredith for taking the time to chat with us about why she supports the AWHF! If you'd like to learn more about getting involved, don't hesitate to contact us HERE.