Tackling Taboos: Painful Periods and PMDD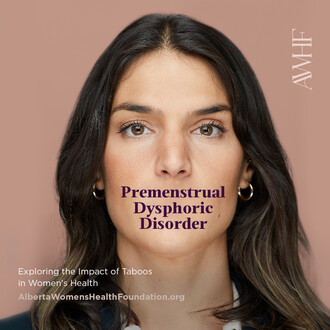 At the Alberta Women's Health Foundation (AWHF), we are on a mission to support the advancement of care and research in women's health. Tackling taboos is part of this. We surveyed over 2,200 people in Alberta, mostly self-identified women, to explore the impact of taboos on women's health, and to bring attention to medical conditions affecting women's lives in our province.
In Alberta, painful periods were the top identified issues that greatly impacted women's lives, with 86% suggesting impacts to work life and 80% of those experiencing this condition affecting home life.
Yet only 55% of women in Alberta felt that friends and family support them regarding this issue.
PMDD is a severe premenstrual syndrome related to hormone changes during menstrual cycles. Symptoms include mood swings, depression, irritability or anxiety, sore breasts, bloating and joint or muscle pain for one to two weeks before menstruating. The stigma around periods and knowledge of what is "normal" often leads to a delay in seeking medical advice for issues associated with menstruation. Furthermore, evidence of misdiagnosis, minimized symptoms and dismissal from healthcare providers compound the delay in diagnosis.       
"People think I'm being dramatic when in reality, my reaction is proportional to the pain I'm experiencing. At times I'm not able to even get out of bed." - Survey respondent suffering from painful periods
As a society, we have normalized many women's health issues, like painful menstruation. Even the portrayal of women in the media reinforces the notion that women should not let their periods prevent them from doing anything. Many women have had their symptoms dismissed by loved ones and health professionals as "just part of being a woman," driving them towards isolation and hopelessness and even leading some to consider suicide.
Painful periods are associated with considerable impairment in quality of life between 16% to 29% of women, and in adolescents, 12% of the monthly school and work activities are lost due to absenteeism because of painful periods.
The collective dismissal of period pain and disregard for women's lived experiences has caused many women to suffer in silence, leading to a degradation in their quality of life.
We are working to change that. 
The Alberta Women's Health Foundation is committed to continuing conversations around painful periods and PMDD. Read more in our report by clicking the link below.
Resources: