Meet Dr. Davenport – Focusing on the relationship between pregnancy and exercise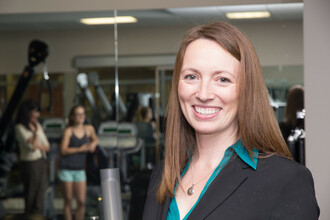 Dr. Margie Davenport is an Associate Professor in the Faculty of Kinesiology, Sport, and Recreation at the University of Alberta, holder of the Christenson Professorship in Active Healthy Living, and a researcher with the Women and Children's Health Research Institute (WCHRI). The main focus of her work is on the impact of physical activity during and following pregnancy on the lifelong health of mothers and their babies.
Every person is a result of a successful pregnancy. Pregnancy is a unique period of time that can set the trajectory for health outcomes for two generations.
But, as Dr. Davenport notes, pregnancy is classified as an injury by most sports organizations.
This is problematic as it discourages women from being active while pregnant, despite the well-documented benefits of physical activity on one's mental, emotional, and physical health. Dr. Davenport believes this continues the cycle of women and girls being discouraged from being involved in sports past puberty, and especially at the elite level in comparison to male athletes.
"Pregnancy is classified as an injury by many sporting organizations. Obviously, this should not be the case, as pregnancy is something many people hope and dream about, and as such should be celebrated—not treated like you're 'hurt."
- Dr. Davenport
Dr. Davenport believes that when women and girls are excluded from sports, they are denied opportunities to develop life skills like confidence, leadership and problem-solving—essential skills in everyday life that serve them in their personal and professional lives.
She hopes that through her research, better policies and frameworks will be developed to support the inclusion of women in sports from a young age until later in life. She notes the importance of having role models at the elite level of sport that shows having a family isn't the end of an athletic career.
"This causes a trickle-down effect on developmental and recreational athletes," said Dr. Davenport. "If you can see it, you can do it."
Click below to watch a short video about Dr. Davenport's work: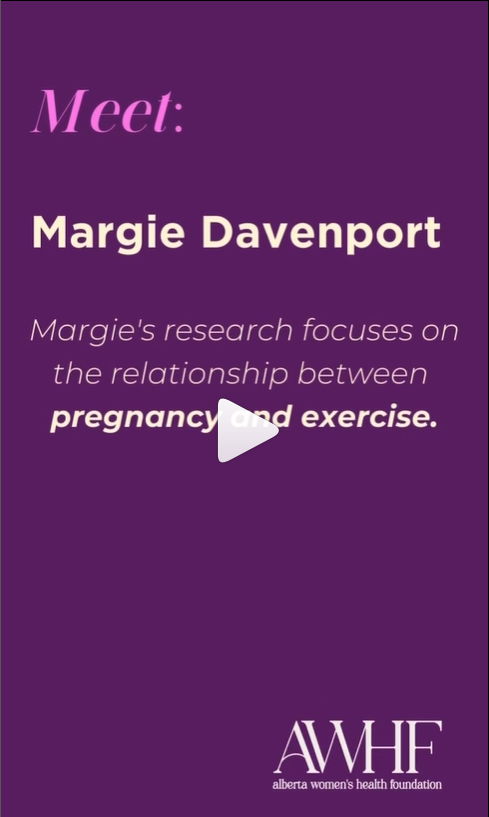 Some of Dr. Davenport's recent publications include:
The AWHF is extremely proud to support the work of Dr. Margie Davenport and others like her, such as Dr. Amber Mosewich and Dr. Tara McHugh. Brilliant researchers like these women are leading the charge in providing an appropriate base of research and evidence for making effective changes to sport practices and policies, and ultimately working to remove gender bias.


Dr. Davenport is also funded by WCHRI, the Christenson Professorship in Active Healthy Living, SSHRC (Social Science and Humanities Research Council of Canada) and NSERC (Natural Sciences and Engineering Research Council of Canada).
For more information on Dr. Davenport's work, we encourage you to follow her work on WCHRI, at @exerciseandpregnancy on Instagram, @ExercisePreg on Twitter,  @programforpregnancyandpost1089 on YouTube, the "Program for Pregnancy and Postpartum Health" group on Facebook, and visit her website at www.exerciseandpregnancy.ca
To support more researchers like Dr. Davenport, please consider a donation to the AWHF.