Embracing Equity for International Women's Day 2023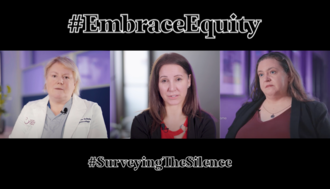 Dear friends and supporters,
Today is International Women's Day, a day recognized across the globe to celebrate the social, economic, cultural, and political achievements of women.
It also serves as a reminder that we still have work ahead of us to raise awareness about stereotypes and discrimination and to advance gender parity and inclusion.
This year's theme is to #EmbraceEquity.
In the spirit of the day—which also marks the two-year anniversary of the Alberta Women's Health Foundation—we are proud to share with you a short video. We invite you to watch it here:



Last year, we surveyed over 2,200 people in Alberta to understand their top health concerns, specifically those associated with women's anatomy. We published our findings in our second-ever report, "Surveying the Silence: Exploring the Impact of Taboos in Women's Health."
We would like to take a moment to celebrate this report and what it stands for—the sharing of women's voices, the support for research, and the progress that will undoubtedly come from advancing the discussion around women's health.
We know we cannot truly embrace equity without supportive people like you. It will take all of us.
So, thank you, and from all of us at the Alberta Women's Health Foundation, here's wishing you and your loved ones an inspiring International Women's Day.

Sincerely,
Sharlene Rutherford
President and CEO
Alberta Women's Health Foundation