Celebrating Asian Leaders in Healthcare: Dr. Cheng-Han Lee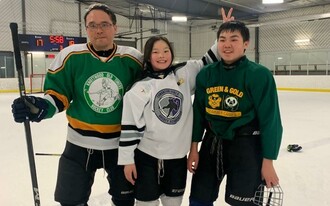 In Canada, May is Asian Heritage Month. Representing over 4.8 billion people and a mosaic of cultures, Asian Heritage Month provides an opportunity for us to learn more about the history of Canadians of Asian heritage, and to celebrate their contributions to the growth and prosperity of our communities.
It is important to us at the Alberta Women's Health Foundation to amplify and celebrate the different perspectives and voices that add to the richness of the research and programs we support. While the Foundation aims to celebrate equity, diversity and inclusion every day, this month we are proud to showcase some of the Asian healthcare leaders in women's health research.
Dr. Cheng-Han Lee currently holds the Sawin-Baldwin Chair in Ovarian Cancer Research and is an Associate Professor of Laboratory Medicine & Pathology in the Faculty of Medicine & Dentistry at the University of Alberta.
Originally from Taiwan, Dr. Lee moved to Canada at age 15. First landing in Montreal, Dr. Lee and his family eventually moved to Vancouver where he completed high school and post-secondary.
"It was quite a culture shock moving to Montreal, in a good way. In Taiwan, the school was very rigorous and intense. Canadian education is more creative and less militaristic. By comparison, high school in Canada was a bit like being out of prison," Dr. Lee joked, "you're allowed to have more fun."
Dr. Lee was drawn to science and medicine from a young age.
"I always liked to think about problems and puzzles. I am interested in the mental gymnastics of research. So, I did the combined M.D/PhD program at UBC."
For most of his career, Dr. Lee's professional focus has centred around gynecological cancers. "On the research side, my interest in ovarian cancer research came into focus when I started to do my residency training," he explained. "I focused my residency and my fellowship on these types of cancers. Ovarian cancer wasn't that well studied up until a decade ago."
For the past decade, Dr. Lee's research has focused on the genetics and biology of aggressive gynecological cancer and has been featured in over 140 publications.
And on the personal side, Dr. Lee's passion for cancer research and internal medicine stems from his own experiences as a cancer patient, having gone through treatment for colon cancer, and after his mother passed away from cancer a few years ago.
"I've been a cancer patient as well as a researcher. It's an interesting perspective," he shared.
"My mother died of cancer a few years back and I went through that whole process with her. Because I am a professional at diagnosing these kinds of cancer and designing a course of treatment, I know how frustrating and nerve-wracking the experience can be for patients."
"The patient experience is what personally motivated me," he reiterated. "A lot of people's lives are touched by cancer." 

Dr. Lee commented on some of the many barriers to health equity people face when trying to access health care, from cultural limitations such as a language barrier to physical limitations like distance.
"Geographic inequity is a huge issue. For some people in remote communities, cancer screenings are less accessible compared to people who live in urban areas. Sometimes we see patients with more advanced cancers coming from rural locations who might be in a different situation had they been screened earlier."
Outside of work, Dr. Lee is married with two kids, a self-professed "proud hockey dad."
"We are a hockey family. My wife and I spend all our time driving them to arenas. Our weekends are spent watching them play. I try to keep it cool and not cry, but sometimes your emotions get the better of you."
Thank you so much to Dr. Lee for his dedication to fighting women's cancers and for taking the time to sit down and chat with us!