Celebrating Black Leaders in Health Research: Dr. Bukola Salami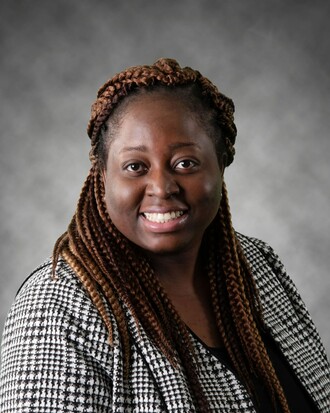 This year, one of the international themes for Black History Month is "Black Health and Wellness" with a focus on celebrating the contributions and breakthroughs of Black professionals in the field of healthcare. 
It is important to us at the Alberta Women's Health Foundation to amplify and celebrate the different perspectives and voices that add to the richness of the community we support. While we aim to celebrate equity, diversity, and inclusion every day, this month we are proud to showcase some of the Black leaders in Women's healthcare and health research.
Dr. Bukola Salami is an associate professor in the Faculty of Nursing at the University of Alberta, as well as the director of the Intersections of Gender Signature Area, which focuses on advancing research around gender, sexuality, and issues of equality. 
Originally from Nigeria, Dr. Salami moved to Canada at age 16 with her family. She completed a Bachelor of Science from the University of Windsor, a Master's in Nursing Administration from the University of Toronto and a PhD in Nursing from U of T with a focus on the migration of Philippine-educated nurses to Ontario through the Live-in Caregiver Program. 
Dr. Salami has participated in nearly 100 funded research projects during her academic career – including several funded by WCHRI. Her work on the mental health of Black youths contributed to the creation of a mental health clinic for Black populations in Alberta. She is involved with countless boards, community organizations and mentorship programs, such as the Black Opportunity Fund, where she is the Chair, and the Black Youth Mentorship and Leadership Program at the University of Alberta, which Dr. Salami founded in 2020. 
Dr. Salami is passionate about training students and currently supervises five post-doctoral students as well as ten research associates. She has "a strong interest in mentoring the future generations" and describes herself as "very much involved in the community."
"I work with a lot of high school and undergrads," she described. "Every year I have about 30 high school students that I connect with mentors through the mentorship program I founded, or that I take on myself and I mentor them." 
When asked why, she explained: 
"I created the Black youth mentorship program because I was someone who went through a Black youth mentorship program and benefitted from that immensely. I went through the first ever Black youth mentorship programs in Canada at the University of Toronto. I always thought, someone did this for me. Someone sacrificed for me. I want to do this for someone else. So as soon as I had the opportunity I did it."
Dr. Salami's research focuses primarily on health equity in relation to immigrant populations and Black people in Canada. Her work strives to uncover how the intersections of race, income, and gender affect health outcomes, particularly for Black women in Canada, and works to find solutions to address these barriers.  
"There is such a huge gap in women's health research, especially regarding health inequities and race-based desegregated data," she said. "There is a lot that can and should be done around this topic. I'm motivated by the fact that there is so much need in the community for this type of work. 
"This is the kind of research the Black community has been waiting for." - Dr. Salami
For example, in the data Dr. Salami has analyzed, Black women from West Africa are one of the most educated populations in Canada – yet the employment gap remains high in comparison to other demographics with the same level of education. 
Consistent evidence indicates poorer health outcomes among Black Canadians, including increased chances of diabetes, hypertension, coronary artery disease, and cancers. Black women are especially vulnerable to disparities in health outcomes. For instance, Black women have a greater risk of developing cardiovascular diseases than Black men and are more likely to receive inadequate treatment and management for heart disease than white women.
In a project funded through the AWHF, Dr. Salami is examining the various barriers Black women face when it comes to accessing healthcare, and ultimately the health and wellness of Black women in Canada. The study will also identify the association between sex, age, income, education, language, employment status, and immigration status (born in Canada versus outside of Canada) on access to health services.
"COVID has helped us shed light on some of the disparities Black people and Black women face in the community. The Black community has a higher rate of COVID-19 and a lower vaccination rate. Women have an even lower rate," said Dr. Salami. "It makes sense when you think about gender roles. Can you take time off work? Can you take time away from childcare to go and get vaccinated? More Black women and women of colour work the frontlines of healthcare, so there's more opportunity to be exposed to COVID-19. We are multiply impacted."
"A lot of the things I study I have experienced. I have experienced health inequity and I want to make sure the next person does not experience any inequities in healthcare." – Dr. Salami
This is Dr. Salami's first project funded by the AWHF, but not her first project with the Women and Children's Health Institute (WCHRI), an organization for which she shared her praise. "WCHRI has supported me so much. They are my cheerleaders. They have brought me into amazing projects and make an effort to amplify my work. They've also funded my students, who have won awards," she expressed.
"I came to the U of A eight years ago and was just promoted to full professor starting in July, and I honestly don't think I would have gotten here without the support of WCHRI and the AWHF for providing the funding that is necessary for my students, or for me to conduct my research, " she continued. "Really – from the bottom of my heart, this funding is life changing." 
Thank you, Dr. Salami, for sharing with us your important research on the health and wellness of Black women in Canada, and for your commitment to mentorship and community engagement. Your passion is inspiring!