AWHF Women's Health Panel on Real Talk podcast show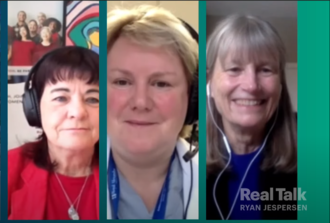 Ryan Jespersen is a long-time Edmonton media personality who hosts a regular podcast show, Real Talk, to discuss news, politics, and pop culture.
Yesterday, Ryan was joined by three notable women—all doctors—to discuss a topic that falls across all three categories but spans even further, wider, and deeper: women's health.
(begins at 41:43 mark)
Dr. Colleen Norris is a professor and clinician scientist with the University of Alberta's Faculties of Nursing, Medicine and School of Public Health.
Dr. Jane Schulz is a professor with the University of Alberta's Faculty of Medicine & Dentistry, Department of Obstetrics & Gynecology.
Dr. Sandra Davidge is the Executive Director of the Women and Children's Health Research Institute, and holds a Canada Research Chair in Maternal and Perinatal Cardiovascular Health.
Research drives innovation and changes in clinical care

The conversation covered many topics, such as International Women's Day, the recent launch of the Alberta Women's Health Foundation, the need for female-focused research, and the meaning behind AWHF's inaugural campaign, #RefocusTheResearch.
"Refocusing is saying … we need to start including women in the clinical trials, in the treatments, in decisions about what's going on with their health because they've just traditionally been left out of the picture." - Dr. Colleen Norris
The group discussed several reasons for the lack of representation of women in clinical trials, the importance of education in women's health for many parties (the public, health care providers, families of the women and the women themselves, and men), the difference between sex and gender along with the added difficulties for transgender people, and recognizing biases. Ryan brought up insights he gained from the book, Invisible Women: Exposing Data Bias In A World Designed For Men, which Dr. Norris emphatically recommended to all as an eye-opening read. 
COVID was also discussed as a current major factor for the imbalance in negative effects on women's mental health and the health care system itself—including potential implications around reactions to vaccines as it relates to immature red blood cells. 
"Women know their bodies. If you think something is wrong and you're not getting answers, then push to get answers." - Dr. Jane Schulz 
All of the panelists agreed that it is vital for women to speak up about their health and what they're feeling and experiencing, which Ryan reinforced by reading several comments and questions from the live chat. 
Viewers chimed in to talk about the shame or embarrassment—and related danger—of not talking about one's heart health issues (and the #TimeToSeeRed campaign), the different presentations of female vs. male heart attacks (as demonstrated in a video with Elizabeth Banks), long-lasting postpartum symptoms (with one woman having such terrible postpartum depression that it inspired her to become a doula), the difficulty in caring for one's elderly mother or grandmother, and the stigma around pelvic floor disorders, which one in three women experience following a birth.
On the bright side, progress is being made, with this conversation being one of hopefully many that help shine a light on the movement.
As Dr. Davidge said, "This new AWHF, the Canadian collaboration we have (through WHCC), and WCHRI are supporting research for women and driving innovations in clinical care which is HUGE for all women in our province."
She went on to describe how improving women's health has a ripple effect, and that, "We are so well positioned in this province to really do more for our women and children." 
Why is this so important? 
In Dr. Davidge's words, "When we talk about women's health, it's about families and men too. It's a win-win for everybody when we focus on women's health."
Before wrapping up Ryan also asked what the average citizen (without post-doctoral experience, he said half-jokingly) can do to help.
Fortunately, there are many ways to support:
Educate yourself. Be an advocate for women's health. Speak up for your own health. Visit the AWHF's website and use the #RefocusTheResearch tag on social media. 
And of course, make a donation.