NEWS RELEASE: Alberta Women's Health Foundation to tackle historic gaps in health research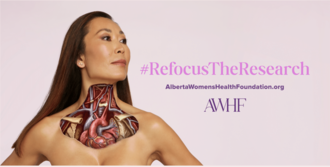 NEWS RELEASE-
March 8, 2021
Alberta Women's Health Foundation to tackle historic gaps in health research
New campaign challenges Albertans to #RefocusTheResearch to improve health outcomes for women and girls
Each year, approximately 300 Alberta women are sent home from the emergency department, only to be later readmitted with a heart attack. They're the victims of an information gap. Signs of a heart attack in women go unrecognized because they often have different symptoms than men, which is just one example of how women's healthcare is directly affected by historic deficits in women's health research.
Launching on International Women's Day, the Alberta Women's Health Foundation (AWHF) aims to change that by tackling long-standing shortfalls in women's health research. The AWHF, an initiative of the Royal Alexandra Hospital Foundation, will support more than 140 researchers at the Women and Children's Health Research Institute (WCHRI), whose research projects focus specifically on women's health.
"The time is right to begin to address an historic inequity consequential to women from across the generations; our great-grandmothers, grandmothers, and our mothers," says Sharlene Rutherford, president and CEO of the Royal Alexandra Hospital Foundation, the parent foundation of the new fundraising initiative. "Less than eight per cent of national funding supports women's health research, yet women represent nearly half of our province's population. The gap has led to misdiagnoses because, in the medical system, women are often treated as 'smaller men'."
The launch of AWHF includes a #RefocusTheResearch awareness and fundraising campaign that challenges Albertans to shift their attention, money and energy from women's appearances to women's health.
"Supported by our launch partner, Alberta Blue Cross, we are able to stand before you today to begin our journey to amplify the need to close these gaps in women's health," said Rutherford. "Today, we commit to supporting research that will directly target Albertan women's health."
Through this campaign, the AWHF will raise awareness of its ongoing work to bring research from the lab to healthcare settings across the province. The research will benefit urban and rural Albertan women of all ages and include projects dedicated to BIPOC community members.
"We are playing catch-up when it comes to women's health research," said Dr. Sandra Davidge, executive director of the Women and Children's Health Research Institute. "There is still so much to learn about ovarian cancer, heart disease, mental health issues and numerous chronic conditions that impact women. The support of Albertans will advance our studies and prepare the next generation of researchers to tackle the health challenges ahead."
Recent research projects include the finding that women have a higher percentage of immature red blood cells, which could affect their response to vaccines; the discovery of a gene that may contribute to urinary tract infections; and the determination that COVID-19 has increased depression and anxiety in pregnant and post-partum mothers.
"This cause matters to me because, without research regarding heart health, I might not be here," said Cynthia Culhane, a Calgary mother of four who lives with a condition that affects blood flow to her heart. "This research is essential and long overdue. I urge Albertans to put their support behind this cause in the name of every woman they care about."
#RefocusTheResearch campaign materials can be found here
(NOTE: ONLY AVAILABLE STARTING MARCH 8TH, 10 AM MST)


For more information, contact:
Lindsay Peddle
Director of Communications
Royal Alexandra Hospital Foundation
Mobile: 780-217-2613
Email: LPeddle@royalalex.org


Did You Know?

The majority of artificial hearts are made in a size that's

too big for many women

.
Health Canada issued the first guidelines to include women in clinical trials

less than 30 years ago

.
Only 9% of medications have been tested for safety in pregnant women, which puts

expectant mothers and babies at risk for adverse side effects

.
On average,

it takes seven years for a woman to get an endometriosis diagnosis

because most medical professionals don't know enough about it.
35% more women die of strokes than men

but only 35% of clinical trial subjects in cardiovascular research are women. This means that health care may not be tailored to meet their specific needs.
About the Royal Alexandra Hospital Foundation
Established in 1984, the Royal Alexandra Hospital Foundation is committed to supporting improved health care outcomes for the hundreds of thousands of people who seek treatment at the Royal Alexandra Hospital every year. The Foundation funds advanced education, cutting-edge research, next-generation technologies and facility enhancements. It also supports a growing number of specialized centres of health care excellence located at the Royal Alexandra Hospital campus, including the Lois Hole Hospital for Women, the CK Hui Heart Centre, the Orthopedic Surgery Centre and the Eye Institute of Alberta.
About the Women and Children's Health Research Institute
The Women and Children's Health Research Institute (WCHRI) supports research excellence dedicated to improving the health and lives of women and children. WCHRI was founded in 2006 as a partnership between the University of Alberta and Alberta Health Services, with core funding from the Stollery Children's Hospital Foundation and the Alberta Women's Health Foundation. Our membership is made up of over 500 leading researchers who are passionately committed to women and children's health and well-being.