Announcing "Seeds of Transformation," the Royal Alexandra Hospital Foundation's 2021-2022 Annual Report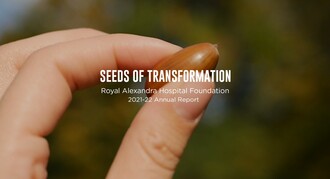 The Alberta Women's Health Foundation is thrilled to present "Seeds of Transformation" - the Royal Alexandra Hospital Foundation 2021-22 Annual Report. This report is full of powerful stories that show the impact of donor support and the progress we've been making in supporting excellence in care for all Albertans. 
In this report, you will read messages from the Foundation, Board, and site leadership, key financial information, reporting, and treatment statistics across the hospital's centres of excellence. It also contains moving stories that describe new pathways and transitions, coming together for the greater good, the importance of human connection, and the positive influence philanthropy has on the lives of our patients in real time. Much like a forest once began as a single seed, the Foundation believes that even the smallest gift, over time, has the ability to be truly transformative.
The AWHF and its Board of Directors invite the community to join in and share in its gratitude and celebration of the many steps we've collectively taken.