Save-On-Foods "Bunches of Love" Mother's Day campaign shatters fundraising records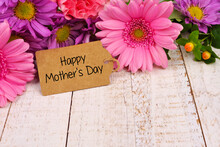 Thank you to everyone who bought flowers from Save-On-Foods for Mother's Day. Because of your support, we shattered all previous records with an extraordinary 'Bunches of Love' fundraising total!

From May 11th to 17th, the Save-On-Foods Mother's Day flower sales soared to incredible heights, generating a remarkable donation of $90,454. This generous contribution will be directed towards supporting women's health partners across Western Canada, like Alberta Women's Health Foundation, BC Women's Hospital and Health Centre, Jim Pattison Children's Hospital Foundation, and the Health Sciences Centre.

We extend our heartfelt gratitude to everyone who played a part in this remarkable achievement. Your unwavering support and enthusiasm have made a profound impact on the lives of countless individuals in need. Together, we are making a difference and nurturing a healthier future for our community.
Thank you, Save-On-Foods, for your enduring support of women's healthcare programs in Canada.
If you would like to support women's health, please consider making a donation to the Alberta Women's Health Foundation.