Celebrating Indigenous Leaders in Women's Health Research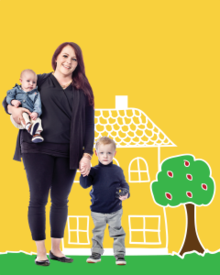 In Canada, June is Indigenous Heritage Month. It is a time for all Canadians to reflect on the unique histories, sacrifices, cultures, contributions, and strengths of our First Nations, Inuit, and Metis Peoples - past and present. For the Alberta Women's Health Foundation, it is an opportunity for us to showcase and celebrate the contributions made by indigenous researchers in the field of women's and children's health and wellness. 
Melissa Tremblay is a Metis scholar and researcher at the Women and Children's Health Research Institute whose work broadly focuses on the health and wellbeing of Indigenous children, youth, women, and families, as well as children and youth with complex needs. In a project funded by the Alberta Women's Health Foundation, Melissa is studying how to enhance mental health services for teen parents. 
**Originally Published by WCHRI on June 24, 2019**
There's No Place Like Home
Raising a baby isn't easy and many new parents— especially teen parents—face mental health challenges. The pressure of being teen parents means they are at even higher risk for post-partum and general clinical depression. And because they are more often affected by trauma and family violence, teen parents are at risk for post-traumatic stress disorder (PTSD).
Melissa Tremblay is studying how to enhance mental health services for these teen parents. It's crucial because when parents are affected by depression or PTSD, the well-being of their children is also impacted.
Tremblay evaluated how teen parents and their children benefit from an innovative subsidized housing and support program in Edmonton, called Supportive Families. It is run by Brentwood Community Development Group, with support from workers at the Terra Centre, an organization helping pregnant and parenting teens.
About 65 parents have taken part since the program began in 2014, with 70 percent identifying as Indigenous. Around 90 percent of the teen parents in the study are mothers and 75 percent are single.
"We had some in-depth group discussions with the parents about what they need to raise their kids in healthy ways," says Tremblay. "What are they lacking in terms of social support? One of the areas that really came out was mental health support."
In a new study, Tremblay will examine how to best provide effective clinical mental health services to teen parents and the barriers that will need to be overcome to ensure they get timely help that encourages them to keep coming back.
Building rapport with the teen mothers in her studies has not been easy since many feel stigmatized and have had negative experiences with service providers and other professionals. But Tremblay, who is Métis, has some advantages that help her connect. She is the mother of two very young children herself.
In her initial study, she brought her first baby to group meetings from the time he was just two weeks old. "It shifted the power a little bit. I was no longer this outside researcher coming in to shed light on issues. This was my first child and the teen parents were able to tell me what to expect and I would ask them questions. They had more experience than I did."
Moreover, Tremblay is inspired by her own parents, who had their first two children as teenagers and faced a lot of criticism. Her parents are still together, with five kids.
Tremblay hopes her studies will reach a broader audience than academia. "If we are able to come up with some meaningful findings in terms of what teen parents need, we can take those to people who can influence policy and advocate for change."
Tremblay conducted this study along with her Ph.D. supervisor Rebecca Gokiert and other researchers at the Community-University Partnership for the Study of Children, Youth and Families (CUP).
Melissa Tremblay's research has been funded by the Alberta Women's Health Foundation through WCHRI.