AWHF wins Rosie Award for "We Are Not Equal" campaign video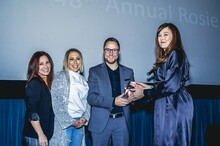 The AWHF is thrilled to announce that on September 24th, 2022, at the 48th annual AMPIA Rosie awards, our "We Are Not Equal" video won the award for the category of "Best Promotional Production."
Created and released last March in honour of International Women's Day, this video centers around the premise that, on a daily basis and in a variety of situations, women face additional barriers and obstacles compared to their male counterparts, all rooted in bias. With a powerful voiceover inspired by Jared Mauldin's viral letter written back in 2013, the video shows many instances where these biases may be present, as well as how women deserve more recognition, respect, and, of course, equality.
If you have not yet seen the video, you can view it here:
We would like to extend a huge thank you to AMPIA for the recognition and to our producers Blake McWilliam & Dylan Rhys Howard at Back Road Productions, and all those who assisted in bringing this vision to life.
Several members of the AWHF team attended the award show in person to accept the honour on behalf of the organization: Kyle Polanski, the AWHF's in-house Producer, Lindsay Robertson, Director of Communications, and Sharlene Rutherford, President and CEO of the AWHF.
We are extremely proud of this project and grateful that this message resonated deeply with so many people. Thank you to everyone who watched and shared this video widely!